For Creators
Make your voice your fortune.
Used by erotic audio creators, ASMR artists, & voice actors all over the world.
We believe that your voice has the power to change the world, and we're here to help you unlock its full potential. Whether you're a seasoned audio creator or just starting out, we provide the tools and resources you need to monetize your work, create a strong community and build a successful career doing what you love.
So why wait? Join our community of passionate audio creators and cash in on your voice today!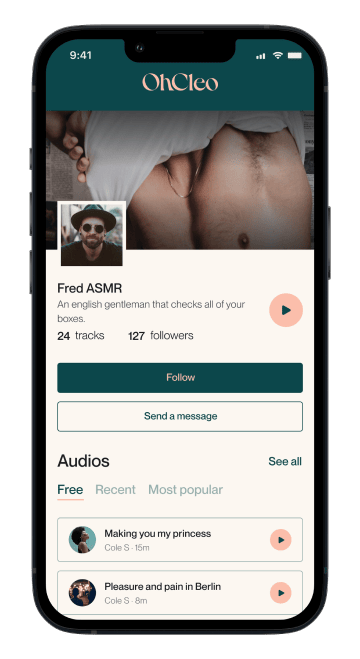 Monetise
Earn money on your exclusive content through offering up to 3 subscription levels, locked content or getting tips.
Get discovered
Reap the benefits of our user interface that allows users to explore and find new creators and their audios.
Interact
Foster a loyal relationship with your followers by staying connected! Reply to comments and share polls, voice memos and interactive posts.
Create up to 3 subscription levels
Build a sustainable income stream from your audio creations by creating up to 3 subscription levels and tailor them to your own needs. Offer exclusive perks or rewards to loyal fans e.g. early access to content, bonus episodes, or personalized shoutouts.
Get exposure through free content
Unlock exposure to a community of thousands of users actively seeking creators like you! Amplify your reach by offering a selection of tracks for free, enabling new listeners to discover your content through our Explore page or recommended tracks feature.
Monetize on non-subscribers through locked content
Some users might love your content but don't want a monthly subscription. Let these followers pay to access one of your tracks for 24hrs, or purchase to access the track forever. You set your own prices!
Save time on commission work
Tired of back and forth messaging with users that want to order exclusive tracks from you? We've streamlined the process so you can accept or reject commission requests easily and get paid directly on the platform!
What is the OhCleo platform fee?
There are two fees associated with your creator membership on OhCleo. The first is the platform fee which is 8%. The second is the payment processing fees charged by our payment provider. To see what processing fees you are paying, go to Pricing & fees | Stripe Official Site and select your location.
The creator first platform for audio erotica
Together we're building a brave new world of lust and intimacy 100% free from taboos and shame. Our promise is simple: Satisfaction Guaranteed.